An Online Slots Strategy Guide
There are a number of different online slots that you will be able to play online. In fact, they are the most popular casino games in the iGaming industry. However, sometimes it may prove to be difficult playing slots, particularly as they can burn through your bankroll. That is why we have concluded our very own expert tips on how to increase your chances of winning whilst playing online slots at various online gambling sites. For more information on our guide, have a read through the below.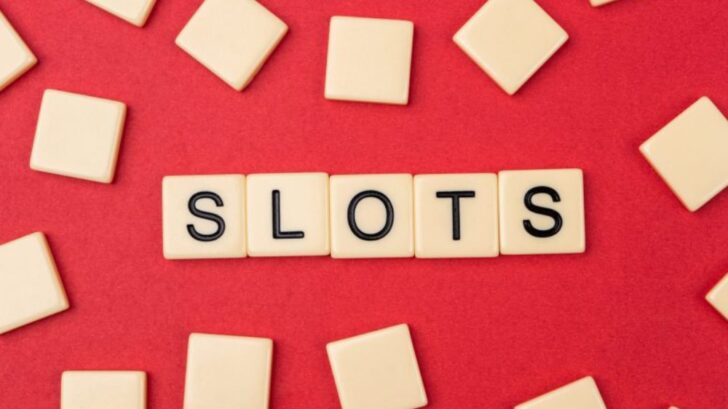 In this online slots strategy guide, we take a look at all you need to know about how to play online video slots and how you can improve your chances of winning. There are a variety of different methods and strategies you could use to improve your chances of winning. In this guide, we take a look at those ways and enlighten you on them.
An Introduction to our Online Slots Strategy Guide

Learn about the many slot machine varieties in this tutorial, as well as some winning tactics you might employ. Before we get started on the strategies, it may be worthwhile to become more familiar with online slots.

Essentially, online slots were developed once online casinos started attracting players to play on the internet. When this started, the development of online slots became more widespread and now they are the most popular online gambling game on the net. To find out more about online slots, we go a little deeper into it below.
About Online Slots

The most played type of casino game is the slot machine. This holds true for both physical casinos and websites that offer online gambling. Slots are really easy, which is one of their many appeals. There are some tactics a player can use to attempt and turn a profit, but there are no complicated strategies that need to be learned, unlike in games like blackjack.

In this article, we'll examine the design of an online slot machine as well as its extra features and the chances of big wins they offer. However, before we get into how you can use them, let's take a closer look at what a slot entails.
A Slot Break Down

You might come across a variety of various online slot machine varieties. Slot machines can be divided into three primary categories: arcade slots, video slots, and classic slots. Classic and video slots make up the majority of the slots you'll find at online casinos. They share a basic framework with respect to reels, rows, and paylines.

Horizontal rows and vertical reels make up a slot machine. Slot machines with a traditional design typically feature 3 reels and 1 row. That was certainly true of the Liberty Bell, the very first slot machine. 5 vertical reels and 3 rows are typical of video slots. A reel's visible symbol positions are referred to as rows.
According to their design, both classic and video slots will contain a number of paylines. They are more likely to have paylines the more reels and rows they have. A payline is a line that can be drawn between the positions on the reels, one on each, along which winning combos can be created. A player has more opportunities to come upon a winning combination the more paylines a slot machine has.
A classic slot and a video slot differ from one another in terms of design. Classic slots often have a straightforward presentation and one or no extra features. They are less sophisticated than video slots and have simpler gameplay.
On the other side, video slots are the most widely played type of slot machine. They typically offer an experience rich in animations and a range of additional elements, such as special symbols. Because of how they are presented, video slots frequently contain a variety of interesting themes, sometimes even ones that are based on works of popular culture including films, television shows, musical acts, and more. These spaces go by the name of brands.
Arcade Slots

Arcade slots are the final category of slots. These games typically have a grid-like 5×5 or 10×10 structure that is square in shape. Cluster payouts, which awards prizes for groupings of matching symbols appearing both horizontally and vertically on the reels, is a common mechanic used in arcade slots. Similar to video slots, these games frequently employ cutting edge technology for stunning visuals and are stacked with additional features. A slot machine may offer a wide range of extra features, including as jackpot rewards, free spins, and special symbols.
An Online Slots Strategy Guide

Essentially, the next stage is to apply tactics to improve your odds of winning after you can tell apart between slot machine features and themes. Before you start spinning, it's crucial to understand that you have no control over the game itself. Every spin is entirely dependent on luck, and there is no foolproof strategy to ensure winnings. But you can keep in mind the following points.
Playing the Maximum Paylines
You can select the number of paylines you want to have active on some slot machines. Always use the maximum amount of paylines and coins when playing these adaptable slots. Essentially, you have more chances to win the more paylines there are. It might be necessary to lower your stake per payline, but it is ultimately worthwhile.
In this situation, it is advised to use smaller coins and to wager the whole value of each coin on each payline. Some slots offer larger payouts, including progressive jackpots, which can only be won when all paylines are in use and the largest coin is used.
You must determine how much you can afford to wager per spin in order to do this. You will give yourself the best opportunity of achieving the largest wins after all paylines are activated and the maximum number of coins are staked on each payline.
Look for RTP

Researching the slot machine you want to play is one of the finest strategies to increase your chances of winning. That suggests that you look at the slot's RTP and volatility. Return To Player, or RTP, is a percentage that represents how much money is paid out over time.

For instance, a slot machine with a 95% RTP will pay out $95 for every $100 wagered on it. It's crucial to understand that this is determined over a significant number of spins. In theory, you may either win more than 100% of your wager or nothing at all. This is why it called gambling, but generally speaking, the higher the RTP of a slot, the better.

Volatility is a term used to describe how a slot machine operates. A slot machine with minimal volatility will typically have higher winning percentages but lower payouts. Slot machines with high volatility typically have larger payouts that are given out less frequently. This directly connects to your budget since, if you are playing a high volatility slot, you may anticipate that the game will deplete your bankroll more quickly.
Be Wary of Progressive Jackpots

Progressive jackpots are really thrilling, but they are not always the greatest choice. The possibility of becoming a millionaire with just one spin is what makes progressive jackpots so attractive. A lower RTP is the price for doing this, though. As a result, when playing jackpot slots, you should anticipate using up your money more quickly than when playing regular slot machines. We are advising you to keep this in mind when placing bets on progressive jackpots rather than to avoid them.
Bankroll Management
The final and possibly most crucial piece of advice is to properly manage your cash. Although it won't directly increase your winnings, doing this will give you more time to play. And as we all know, the longer you play, the more chances you have to win. Here are some strategies you can use to manage your finances.
First and foremost, you must be sure that your budget will last as long as you intend to play. This means figuring out how long a spin will endure. Slot machine spins typically last between one and five seconds. Depending on the game, yes. You should estimate how many spins you can play in the gaming session while keeping this in mind.
You can set a budget based on how long a spin takes—for example, 5 seconds if you wish to play for 30 minutes. Let's say for the purposes of argument that you have a $100 budget. You have the option to play 360 spins in this scenario, which works out to $0.27 every spin. Given that you can wager $0.01 per payline in this situation, it is wise to opt for a slot machine with 25 paylines. If you bet the maximum amount on all paylines, that works out to $0.25 every spin. In this manner, if luck is on your side, you can play for at least 30 minutes.
Setting win and loss thresholds is another strategy for managing your money. This is the slightly simpler choice. If you started off playing with $100, you should quit playing as soon as you lose that amount. You avoid losing more than you bargained for in this manner. The issue here is that jackpot slots or really volatile slots could quickly deplete your bankroll.
Win and Loss Caps

If there are win and loss caps, an alternative is to cease playing when you have won a particular sum. If you play with $100 and a 50% win limit, you must stop playing once you reach $150 in your account. Here, it's important to prevent losing a significant victory. This makes sure you have money left over for your upcoming gaming session when you leave.

Most gamers combine all three of the aforementioned ideas. As a result, they are able to budget their time in a casino and anticipate how long they can spend there before knowing when to go, whether they are in a winning or losing situation. If you want to offer yourself the best opportunity of leaving a casino without suffering too much loss or even making a profit, bankroll management is the perfect tactic to utilize.
The Bottom Line

To conclude on our online slots strategy guide, we hope that you will use these expert tips to help increase your chances of winning. If you are feeling lucky, you will be able to play these games at our jackpot slots page. Furthermore, we hope that this will help you to actually win a massive prize, perhaps even a progressive jackpot.