3 Reel Slots Vs. 5 Reel Slots
When you enter a brick and mortar casino, you'll be faced with a myriad of different slot machines. All with gaudy designs and flashing lights, vying for your attention. So how do you choose? Well, you might be surprised, but often the choice comes down to a familiar feeling that only nostalgia can provide. And that's why 3 reel slots still exist.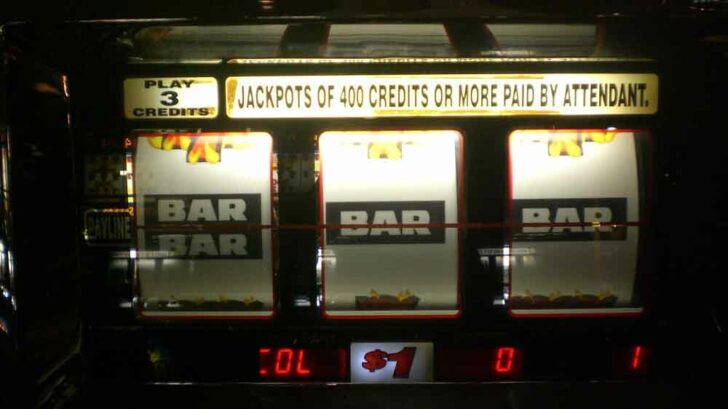 Image source:
Introduction: 3 Reel vs 5 Reel Slots

For the modern player, whether spinning the reels on or offline, the 5 reel slot has always been de rigueur. The symbols used on the reels are often modern as well, and the whole machine feels like something almost futuristic. Even the sound effects are designed to evoke the feeling of an ultra-modern universe, with the slot machine acting as a new fangled means of gameplay. There seems to be an endless number of pay-lines, and the whole machine feels complicated and thoroughly modern.
Why 3-reel Classic Slots Are Still Popular

But for some of us, we pine back to the days of simpler and more easily understood games. For us, these modern 5 reel slots machines leave us feeling cold. Being nostalgic for our first time playing slots, we seek out the simpler 3 reel machines as their spinning reels and more basic format transport us back to our first pocket full of coins. It's an irresistible urge to play on the same machines we first started our gambling with. We don't need to read any instructions or think about the gameplay, as we already know it like the back of our hands. Also, we like the familiar symbols of fruits, diamonds, and bars. And the slower-paced gameplay that comes with them. And it's for this reason, that the 3 reel machines still take a chunk of floor space at any casinos or online jackpot sites.
The Most Frequently Played 3-reel Slots

The online software provider, Microgaming, is still happily knocking out 3 reel slot machines. Let's have a look at their three most popular.
The Joker 8000 Slot

This is based on an old classic and sports a total of 5x pay-lines. The symbols are some old familiars as well, and include, cherry symbols, crowns, and lemons. It's a sought after machine in the casino thanks to the fact that any wins over 20 credits will activate a Super onus Game. This game offers a staggering 8,000 x multiplier. essentially, if 2 x Jokers appear on any 2 reels, then you'll get a mystery prize in the shape of a random multiplier. This can range from 20 x to 8,000 x. And all from a 3 reeled slot machine. Not bad at all!
The Cops and Robbers Slot

On the one hand, this is a slightly more intricate 3 reel slot machine. But on the other hand, it only boasts a single pay-line. If three money bags appear on any of the reels, then that triggers a bonus round. This bonus round lets you play the part of a robber being pursued by the cops. Spinning the reels will let you know just how far ahead you can get. As you're running away, you need to grab as much cash as possible before the cops corner you and make an arrest. Then it's off to jail. To learn more details, check out our Cops N' Robbers Slot analysis.
The 7 Oceans Slot

This is another classic offering from Microgaming. Once again, it has only one pay-line and 3 reels. And once again, it also features all your old favorites as far as the symbols go; sevens, bars, and a jackpot to chase. It's a great machine to begin with, especially if you're new to playing slots. There is nothing about the gameplay that could cause any confusion. The pace of play is nice and slow, so you not only have a longer time to play and enjoy yourself, but your bankroll will go a lot further. The jackpot is 4,000 coins. Good Luck!
It's 5-reel Slots Time!

Now we've had a brief overview of some of the most popular 3 reel slots, let's do the same with 5 reel machines. As far as online casinos go, 5 reel slots are defiantly the most popular type. On the whole, the appeal of the 3 reel slot, rests with the sheer simplicity of both play and design. Conversely, the 5 reel slots offer the player many more pay-lines and many more different ways of winning. You'll find a lot more options when it comes to 5 reel machines, both online and offline. Another point is that with 5 reel machines, the online bonuses on offer are, on the whole, much more diverse, in that you can win, not only free spins but also match deposits and a whole plethora of cash prizes.

On the whole, being more modern machines, both in design and manufacture, 5 reel slots tend to be more complex. They have much better graphics than their more basic siblings. Coupled with hugely improved sound effects along with all those special features and bonuses, making them a much more rewarding play. Hence their overall popularity. There are a huge number of 5 reel slots to choose from. And they all come from any number of recommended software providers. Let's have a look at a few.
The Avalon Slot

Another one from the Microgaming stable, this game is one of their most popular 5 reel slots machines. As you've guessed from the title it's based around the tales of King Arthur and the Round Table. The video game features a whopping 20 x pay-lines. This 5 reel slot machine can land you as many as 12 free spins. On top of that, these free spins can come with multipliers of 7 times.
The EggOMatic Slot

Though the theme is one based around Easter, it's an all year round popular game. Produced by the software company, NetEnt, the design is stunning and yet at the same time allows for very simple gameplay. The design is what we call "composite" in that it's made up of a number of interconnecting parts. First off, you have the egg dispenser, where the diverse feature eggs are stored. With this, a different egg will produce a different bonus and/or features. There are free spins along with extra coins. it would be difficult to fit all this into a 3 reel slots machine.
The Gonzo's Quest Slot

Yet another offering from NetEnt. This game is one of the most famous of all 5 reel slot machines. And that's not just at the casino, but also on across all mobile platforms as well. So why is it so popular? Well, for a start it appeals to players who like high volatility slots. There's also the feature called "The Avalanche" whereby stone symbols drop down and are broken, becoming extra wins in the process. And then there are the free spins which offer a 15 x multiplier. And who doesn't like big multipliers? Learn more about this game in Gonzo's Quest analysis.