Casino Mistakes: A Guide For Newbies
From time to time we all make mistakes. And the gamblers among us are no different either. If you think back over your gambling career, we're sure that you can find some absolute stinkers. We don't have to bring them up now, so we can all save our blushes. But as a newbie, you're bound to come across things that make no initial sense, until it's too late. Let's have a look at the most common online casino mistakes.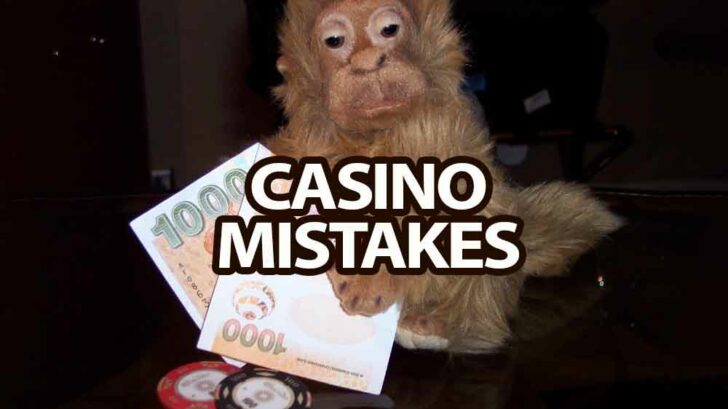 Image source:
Casino Mistakes: Registering Using Fake Credentials

OK…this isn't really a casino mistake, but the reason behind it is a mistaken belief. If you're new to the world of i-gaming, you can sometimes what to explore, but without using your real credentials. Simply put you want to remain anonymous. fair enough. So in order to remain in the shadows, you decide to sign up to an online casino using a fake name. This only leads to yet greater problems.
Use Your Real Details

Here's the rub. Maybe you can play for a little some free games. But without your real details, which need to include some financial information in order to make a casino deposit, you'll not be able to play the games where you could win funds. And if you got that far, you wouldn't be able to cash out. So if you're Donald Duck from Disney World, Florida, there's no way any casino will pass any winnings along to you. There are many reasons that casinos need real information, chief among them are anti-money laundering laws. And on the whole, you'll be needing some sort of funding process, be that a credit or debit card or even e-wallets. At the end of the day, everything needs to be tied to a real name and address.
Casino Mistakes: Picking an Untrustworthy Casino

This is where the heart rules the head. The online casino looks legit, has a lovely interface, and lots of your favorite games. Most impressive is that the welcome bonus is positively huge. If you join there's the promise of any number of fabulous promotional prizes. At this point, we suggest that you step away from the laptop or phone. You could be making a very costly mistake. We know it sounds super boring, more especially when you're on the point of signing up and collecting that welcome bonus. But take a time out. Start to think with your head. The first thing to do is to go check on the casino's license. Is it valid? Is it reputable? Now the equally boring bit of reading through the Terms and Conditions. That'll tell you the real lowdown on those bonuses. You might be surprised by the wagering requirements. By then it too late. So, if you pick an operator only choose from the best online jackpot ratings to go for sure.
Failing to Check Which Payment Methods Are Accepted

Another common fail. Again, this casino mistake is all because you want to take a short cut and sign up straight away. As above, chill. Have a good look through all their relevant small print. On the payments page, check that the methods offered are appropriate for you. There's little point in signing up to a site that requires all funds to be moved via PayPal when you don't have a PayPal account. So, take your time and choose wisely. Again, nothing is quite as bad as being unable to cash out because you have the wrong end of the stick.
Casino Mistakes: Failing to Read the Terms and Conditions

Once again we come back to this. Yes, we know you're already bored about the way we seem to be constantly whining about the T&C's. But we have good reason to care. On our websites, we recommend online jackpot sites for you to play at. We need to be 100% sure that all these sites achieve the highest levels of trust. Remember that we're talking about your money here, not ours. We will lose nothing if it all goes pear-shaped for you. But we would probably lose our hard-fought-for reputation. Though we recommend only the top sites for you, it's up to you to read and understand the T&C's. We can't read then for you! Everything you need to know about your relationship with the casino is there in black and white.
Not Knowing How Online Casino Bonuses Work

New players make so many needless online casino mistakes with regard to bonuses and how they function. People are lazy. They see the welcome bonus lit up in bright lights. But if you look carefully at any online casino bonus, written in small letters beside the bonus itself will be something like "T&C's Apply". So, no, you can't sign up and grab the bonus and then cash out! There will be wagering requirements before you can fully utilize the offered bonuses. Casinos are businesses not fools and they're not there just to give you free money. Think about it for a second, and everything will start to come into focus. The bonus is an enticement. That is all. As with all things in life, we suggest maintaining a level head and you'll avoid all these common casino mistakes.