Straight-up Bets, Futures, Props, Parlays and Teasers
---
Do you know your straight-up bets from your futures, props parlays and teasers? What ever the sport, there are two primary methods of categorizing sports bets used by online sportsbooks. The first and most obvious is by the type of sport, such as American Football, Basketball, or Horse Racing.
Another way to differentiate between sports bets is by how the bet operates. Is the wager on a match that is currently pending? Or is it in the far future? Maybe the event in progress right now? Is it enough to pick only one condition to win the bet?
Jackpot Finder is here to help readers to understand the different betting options punters will come across as they delve into sports betting.
To make this tutorial more practical, we'll illustrate it with screenshots from Bet365 Sportsbook which (by default) uses Fractional Notation.
Readers not familiar with bet notations are encouraged to read our "How to understand fractional, decimal and moneyline odds" guide before continuing.
Straight-Up Bets

Straight-up bets are the most straight forward kind of bet. In a straight up bet, the punter places a bet on a pending match between two teams. There are three common types of straight-up bet:
Moneyline betting, where the punter merely selects the winning team.
Spread betting, where the punter wagers on how many points ahead the winning team will be.
Over/under betting, where the punter wagers on how many points will be scored in total between the two teams.
See Popular types of wager guide for a more in-depth discussion of Straight-Up Bets.
Future Bets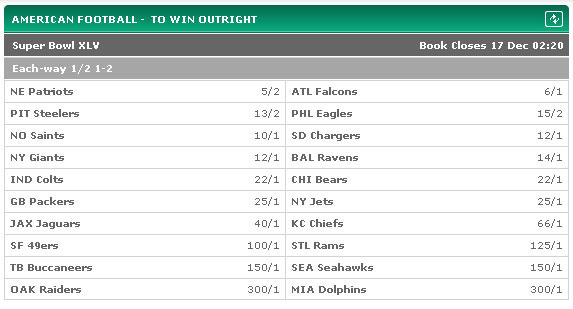 As the name suggests, a future bet is a bet on what will happen in the non-immediate future. That is to say, a bet for the long term. Of course, many things can happen between the present and the event. So it's much more difficult to predict the outcome. Because of this, an internet sportsbook will offer a much bigger payout on a winning bet than if the punter waits until the day before the match.
Let's consider Super Bowl XLV, the upcoming football championship game. This game is scheduled for February 6, 2011. Right now, it isn't certain who will even be in this annual match between the American Football League (AFL) and the National Football League (NFL). As you can see above, Bet365 lists twenty possible teams to choose from!
Punters will also notice that different teams have different odds. It all depends on how likely the event is to happen. Imagine if a punter were to place a bet in favor of the Oakland Raiders or the Miami Dolphins winning the Super Bowl. Now a winning bet would pay out 300 times the stake because even now these teams are considered long shots. No one is seriously expecting them to be in the Super Bowl. However, even the New England Patriots and the Atlanta Falcons offer better than 2 to 1 odds. This is because there is still no guarantee that either will ultimately appear in the match.
Proposition Bet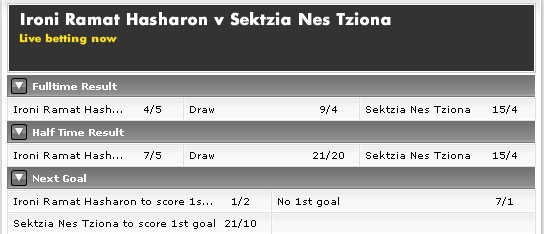 As the name implies, a "proposition bet" or "prop" is a wager made on any single event within the competition; simply put, these are all wagers that are not dependent on the game's final outcome. Typical examples in various sports betting including "goalscorer" props in soccer, "team with most rebounds" in basketball, or the famous "outcome of Super Bowl coin flip" prop in NFL football betting.
A recently introduced wrinkle now available at basically every reputable online sportsbook is "live betting," "in-play betting" or "in-game betting," which allows punters to wager while the competition is running. For example, at the time of this writing, two Israeli football clubs, Ironi Ramat Hasharon and Sektzia Nes Tziona, are in the midst of a match.
Bet365 Sportsbook is offering many proposition bets on this game, of which I've only displayed a small sample. Punters can wager over many propositions, such as:
Which team, if either, will be ahead at half time?
What team, if either, will be ahead at full time?
Which team, if either, will score the first goal?
What team, if either, will score the last goal?
How will be the final score?
Proposition bets can be incredibly specific. An online sportsbook could even take proposition bets about the performance of individual athletes, such as "Will Forward Dudu Avraham score a goal from 100 meters away in this game?"
Parlay/Accumulator Bets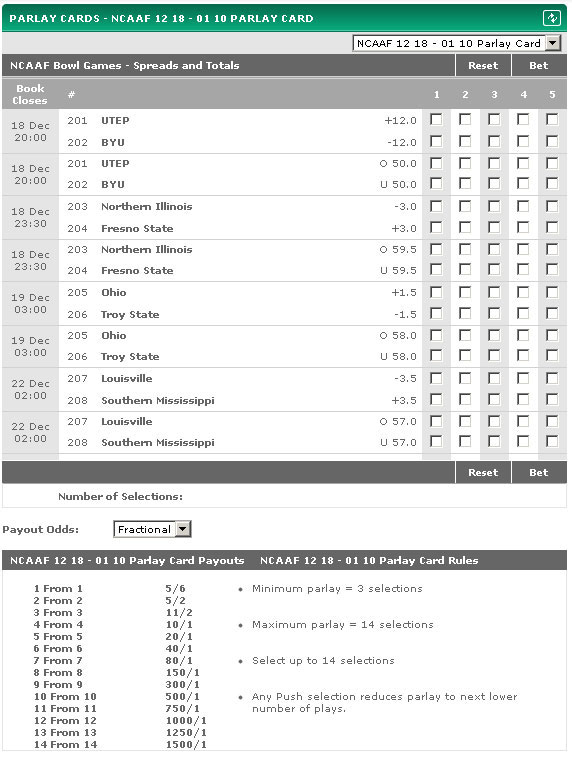 A parlay bet, also known as an accumulator bet, is a bet in which multiple straight-up bet conditions need to be met in order for the punter to win the bet. Pictured above is a Parlay Card from Bet365 Sportbook. Note, in addition to reducing the list, for the sake of consistency I've also toggled the Payout Odds from "American" (default) to "Fractional".
When making a parlay bet, the punter combines at least three moneyline or over/under straight-up bets. As the reader should realize, the more bets the punter makes, the greater the risk. With greater risk, the punter also sees the possibility of greater reward.
On the present card, if the punter can make 14 winning bets, the bettor sees a win of $1500 for every single dollar wagered. Of course, if the punter even misses one bet, the bettor will lose his stake and win nothing. If you want to learn more about how to increase your jackpot winning chances, check out JackpotFinders tips.
Teaser Bets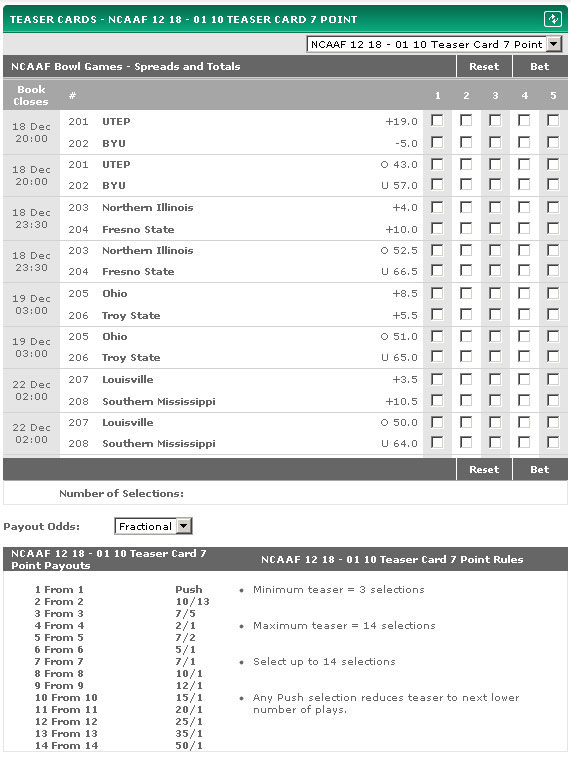 The observant reader may have noticed that Bet365's Parlay Card included only two of the three straight-up bets, moneyline bets and over/under bets. Spread betting was missing.
Teaser bets are very similar to parlay bets, but instead of moneyline bets, the punter can make spread bets. The above-imaged displays Bet365 Sportsbook's Teaser Card for the same set of games.
Traditionally, a teaser varies from a parlay bet because the punter can "tease" (i.e., manipulate) the betting lines. This is if the bettor does not feel as confident about the point spread. Thus, for example, instead of betting upon UTEP +19, the bettor can wager upon UTEP + 18. Typically, internet sportsbooks allow punters to move up to 7 points on football games or 5 points on basketball games. Of course, when punters take advantage of this, the payoff goes down.
Straight-up Bets, Futures, Props, Parlays and Teasers
The reader will most likely have noticed it is very similar to the Parlay Card. But selecting 14 winners on a Teaser Card only pays off 50 to 1. Whereas 14 winners on the Parlay Card paid off at 1500 to 1. This enormous discrepancy is because teaser bets can result in losses for the online sportsbook. You can read more about Parlays here.
While the numbers on the Teaser Card start off balanced, by moving the odds up and down, punters can create situations where they will have four wins on a single game.
Alternatively, if sports doesn't do it for you, we can give you a proper insight on the best jackpot strategies on the net. Next time you play, take that mathematical edge and push it in your own favour!