The 6 Hidden Reasons Why We All Love To Gamble
When the first stone age man threw a handful of dinosaur bones onto the ground as dice, we have all been somewhat addicted to the idea of gambling. Whether for money or just to prove we understand the future better, everyone loves to take a flutter once in a while. There are many deep-seated psychological reasons behind this, with many being related to the same emotional rushes we get from drugs and sex. However, knowing why we gamble isn't going to necessarily affect those who love gambling.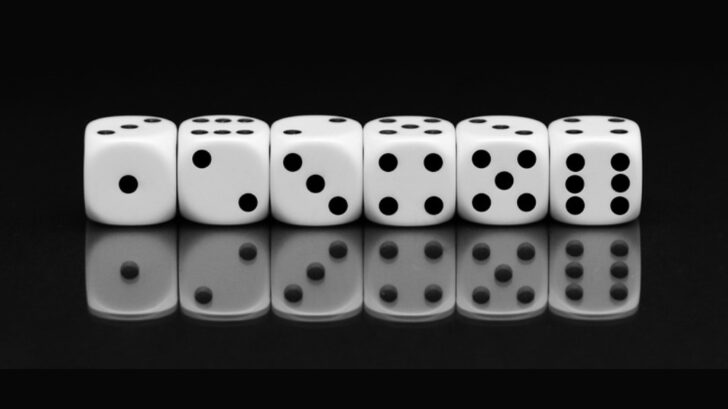 Why Do We Love To Gamble? 
Gambling has always been a part of humanity. After all, it's portrayed as an opulent indulgence in the glitzy world of the jet set making a quick trip to a Monaco casino. And sometimes, just the reverse. A sickening fixation with adrenaline rushes that sets a regular gambler on a downward spiral of addiction. There's just something about the nature of gambling that seems to strike a chord in us. Whether it's a casual "how much are you willing to bet on it?" thrown here and there as a challenge to a friend. Or rooting for your favourite sports team after placing a bet at the bookmaker. Or spending years learning how to count cards in blackjack and memorise strategies hoping to bring the house down. For some reason, we all love to gamble.
But what precisely is it about gambling that gets under our skin? And maybe more crucially, how can we manage it to avoid leaving the casino with a credit card that has been maxed out to its limit? These are the ideas and driving forces that psychologists believe contribute to the gambling experience.
The Perception Of Control When Gambling
Our brains are hard-wired to be overconfident. For instance, the illusion of knowledge can give us a false sense of security about the choices we make every day. This is because our brains simply won't accept that we don't know something that should be obvious to us. Or that we can't make an accurate educated guess. We love the sense of control that gambling games give us. Also, the idea is that we can use talent to sway the result of a game of chance. These ideas boost our self-confidence.
A single extraordinarily high wager may be motivated by a sudden sensation of incoming luck. You can see this when taking a higher risk or playing at high-stakes gambling sites. In any case, when a person feels they have some influence over a game's outcome, they are more likely to wager. And wager bigger. In truth, its near misses and free will are the two primary factors that contribute to the gambler's illusion of control and why they love to gamble.
The Influence Of Near Misses
Near misses are commonly defined as being extremely close to win the jackpot online, but not actually winning. For example, being one number away from winning the lottery or receiving the opposite number at the roulette table. Likewise, the horse you bet on coming in second place is an example of a near miss. The medium frequency of these occurrences gives gamblers the confidence to keep playing in the erroneous belief that the win is close by. That they are somehow developing their skills through these almost-wins. Regrettably, this can also occur with any casino website like 22Bet Casino.
Personal Choice And The Love To Gamble
The notion of human choice also influences the appearance of control. Imagine a player is given the chance to actively participate in the arrangement of the bet. Such as choosing the numbers on a lottery ticket or rolling the dice at the craps table. Or being able to spin the ball on the roulette wheel in place of the croupier. To them, this gives the impression that they are using skill to influence the outcome of the game. Even though in truth it's completely random. It has been demonstrated countless times that prolonged gambling and an increase in bet size are caused by both near-misses and individual choices.
A Dopamine Rush Gives Us A Love To Gamble
Why would someone bet when they know that "the house always wins?" Or that their chances of winning are far higher than their chances of losing? One reason is that taking chances is fun. It doesn't matter whether you're playing at a reputable European gambling site or a top bitcoin casino. There's also the alluring promise that we will win large. Essentially, we'll receive something for nothing if we succeed. Scientists can recognise a pattern of brain activity when people win money. 
The striatum, a region of the brain close to the centre, plays a significant role in the rewarding process. It's also involved in processing natural reinforcers like food, sexual cues, and even addictive chemicals like cocaine.
Neuroscience research has found that a lot of the neurological processes involved in drug and gambling addiction are similar. Naturally, winning can give you a high, but for some people, the anticipation of winning can be just as exhilarating and powerful. Many people look for forms of entertainment that give them an adrenaline rush. Such as waiting for the outcome of a game, the lottery numbers, or simply, the drawing of the next card.
Beware Of The Gambler's Fallacy
The Gambler's Fallacy is another cognitive bias associated with the same gambling drive that causes people to have incorrect expectations about being able to foretell or influence a game of chance. Based on recent results, players in this situation, assign a higher probability of a favourable conclusion. Fundamentally, progression roulette techniques follow the idea that if you keep betting and raising your stake on, say, red, you will eventually win. 
This ultimately results in placing all of your money on red, with no assurance that it will win. Keep in mind that the odds of getting red or a black are always going to be 50/50. Even after 100 black spins results. The gambler's fallacy is no way to increase your jackpot winning chances.
The Love To Gamble: A Heavy Aversion To Loss
Nobody bets with the expectation of losing. To put it plainly, losing is pretty awful. According to research, those who instantly place another wager after losing are actually more irritated by the disappointment of the loss than they are by the excitement of a potential gain. According to other research, women are more afraid of losing than men are. Thus they tend to favour more private games like the jackpot slots where it won't be as obvious. Contrarily, men favour games where they feel they can exert more skill and rely less on chance.
For instance, they favour games that are largely considered to be skill-based, like poker (although chance also plays a significant role in it). Essentially games where cognitive processes like the illusion of control give them the impression that they can figure out a pattern. Or come up with a plan to tip the winning scales in their favour.
The Aspects Of Social Gambling 
Gambling is a common activity for kids and young people at home. People who participated in the card games their parents played with their friends eventually plan casino nights for their pals as a means to connect through common pastimes that in general help people get along. People frequently visit physical casinos in search of socialisation. But, more and more people are finding socialisation at home because of the growth of live jackpot games at online casinos like the excellent 22Bet Casino. 
Advertising The Alluring World Of Status In Gambling
The glossy image that the media and popular culture perpetuate of gambling is another factor that may tempt people to gamble. Gambling is frequently portrayed in seductive ways, such as the champagne-filled feast of affluent and beautiful people in a luxury location. There's an emphasis on the piles of cash spread across the tables. Of course, that looks like something everyone would want to participate in. 
Or consider horse racing. There's a not-so-subtle association with affluent people wearing fashionable clothing and sipping champagne while they discuss the events on their busy social calendars. This gives off the impression that certain people may be pursuing gambling as a form to improve their social standing. Whatever your reasons for betting, please treat it as nothing more than you would any other hobby. Never spend more than you can afford. In fact, on this topic, only gamble with a fixed budget in mind. Once the bankroll is completely depleted, it's time to call it a day, close the laptop and leave the casino.