Blackjack Dealers – An Interview With A Real Casino Blackjack Dealer
Casino blackjack dealers are well paid, especially considering the small amount of training needed to enter the profession. Providing you can handle the cards well and are presentable, then you're ready to go into the casino as a dealer and start to gamble with customers. Of course, as with every job, there are some downsides. These include rude and drunken patrons who blame you directly for their losses. Sometimes, the player's hygiene leaves something to be desired. As well as bad tippers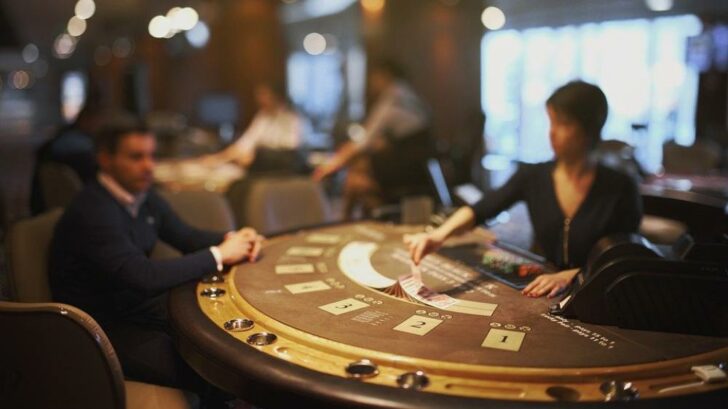 Why do Blackjack Dealers Always Win? 
If you're thinking about becoming one of the casino blackjack dealers, then you could do much worse than speaking with someone who does the job for a living. So this way you can see if the good pay and tips are a reality or just a myth. You can find out about the working conditions and the working hours. To that end, we recently interviewed a casino dealer to get the lowdown on his working life. We'll leave his name out of it, as he requested anonymity.  
For Professional Blackjack Dealers, What Are The Best And Worst Things?
Many dealers love to interact with people. In fact, that's probably the number one reason why they get into this career. But I have always found too many drunks and obnoxious players or the "dude-bro's-Vegasbabywooooooo," or the players who blame me for their losses, and not in the nicest manner either. And some casinos still allow smoking which is something I detest.
But on the other side of the coin, you will find some great people, if only once in a while. These guys come into the casinos to win the jackpot and are full of optimism and hope. It's great fun if you can really hit it off with someone. But, in my case, it's more of a rarity than a daily occurrence. The pay is pretty good, especially if you consider the working hours and a tiny amount of training that's necessary. But in truth, it's really a young person's game. If you can save some money from the job even better. What's interesting is that the vast majority of dealers don't gamble themselves.
How Long Does Training Take For Blackjack Dealers? 
It can be from just a couple of weeks to over two months. It's totally dependent on how dexterous the trainee dealer is with handling the cards, chips and dice. Physical skills really matter as you want a smooth playing experience for the players. For myself, I went through a huge number of unskilled jobs. But when I hit 21, I was allowed into a casino, and more importantly, was able to start training to become a dealer. At the dealer school, I attended, if you managed to score a job, then you were given an automatic grade of "B" and didn't have to return to class. 
What's The Biggest Winning Streak You've Ever Seen?
When you talk with other blackjack dealers, someone always has a slightly fantastic story, bandying around numbers in the millions of dollars. But for myself, I've only ever seen someone win or lose as much as $15,000 in a single day. Once on my shift, a player won $15,000 using what he claimed were jackpot winning strategies. Unfortunately, the next day he came again and by midday, had lost it all and was in a $10,000 hole through chasing losses. If you want to try and experience a winning streak online, then head over to Bet365 Casino. They have tons of games along with live dealer table games.
Do You Ever Think, "This Guy Really Needs To Go Home?"
So many times I've wished that people would just stop playing. Some of the stories you see unfolding in front of your eyes almost make you physically sick. I once saw a guy who mentioned that he was playing with his mortgage money. Of course, I've no way of knowing whether this was true or not, but judging from his broken demeanour after losing everything, I don't doubt it's true. Worse, he was totally smashed, and the waitresses just kept bringing him more drinks. Sometimes it's a cruel and unforgiving world, and the casinos can be heartless in their tricks, that we blackjack dealers get to witness.
Do Blackjack Dealers Attention From The Opposite Sex? 
Ah, I've been hit on a few times. But I can take the wind out of my own sails by mentioning that these women were pretty drunk. I was very young and so seemed like a possible catch for them. But on the other hand, I sometimes feel sorry for the female blackjack dealers who have to deal with being hit on all the time. And in any case, not in a romantic way, but rather with crude and demeaning comments from creepy drunk guys. These girls need to have pretty thick skin.
What Are The Strangest Superstitions You've Come Across?
Watching from my position behind the table, as one of the blackjack dealers, I've seen some very strange behaviour based around some pretty wild superstitions. The Chinese really take the biscuit when they pour into the casinos during the Chinese New Year. They love to play Baccarat and Pai Gow. Those playing Baccarat would slam their hand down hard on the table whilst shouting "Bong" or "Monkey!" All rather weird, but if it works for them, then it's all good I suppose.
What About Real High-Roller Games? How Much Were They Betting Each Hand?
Years ago I was working in Europe, in Monte Carlo. I was handling the jackpot games in the high limit room and we had a customer who was playing with really big hands….around $100,000 to $200,000 per hand! At the time, I was pretty new, and this was my first time in the high roller room, so I was pretty nervous. This guy was playing a number of positions at the same time. And he was winning big! We suggest that if you're playing online and want to have the best chance of winning big, then Bet365 Casino is probably your best option. They also offer a great welcome bonus for all new players of 100% up to €/£100. This is a great boost to your bankroll.
Who Thinks You're An "Unlucky Blackjack Dealer"?
Well, that's an easy question. Everyone who has lost with me acting as one of the backjack dealers thinks that I'm unlucky. Sometimes they actually believe that I can influence their outcomes. Or that I should be freely giving them jackpot winning tips and tricks. Or that my job is to stop them from winning and taking money from the casino. If only they understood what the house edge is for, they would quickly see just how wrong they were. 
What's The Biggest Tip For Blackjack Dealers?
The game in Monte Carlo that I previously mentioned, tipped me $5,000. But I had to split it with the other dealers on the same shift. Not that I minded, as we all followed the same rule. So, though the tip wasn't all for me, it was still a good feeling to be appreciated by a customer, as well as helping out my colleagues. 
Have You Ever Caught Someone Cheating?
I've come up against a lot of card counters, though whether you can really class that as cheating is unclear. When you spot someone counting cards, you should inform the pit boss or another floor manager. The thing is, that it's almost impossible to count cards in the real world. The player is up against a shuffling machine as well as any number of decks of cards. Most of the time, I don't say anything. Unless I see the pit boss out the corner of my eye starting to take an interest as to what's going on at my table. 
Once I had a player ask about the different coloured chips in my chip rack. Before I could answer, and whilst I was distracted, he suddenly lunged forwards and grabbed a handful of the most expensive chips. I was super quick and managed to smack them out of his hand as he ran for the door. Still, I take my hat off in recognition of the sheer brashness and balls of the guy. Impressive stuff. I have to admit that the casino gave me a tip for my quick reaction.